The Raspberry Pi.  What a great idea.  But what does the future hold?
Model A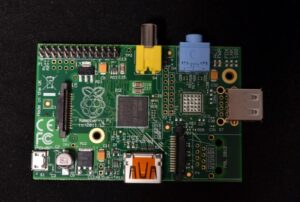 Model B
Specifications
Model A
Model B
Target price:[7]
US$ 25
US$ 35[73]
SoC:[7]
Broadcom BCM2835 (CPU, GPU, DSP, SDRAM, and single USB port)[3]
CPU:
700 MHz ARM1176JZF-S core (ARM11 family)[3]
GPU:
Broadcom VideoCore IV[74]
OpenGL ES 2.0 (24 GFLOPS)
MPEG-2 and VC-1 (with license[71]), 1080p30 h.264/MPEG-4 AVC high-profile decoder and encoder[3]
Memory (SDRAM):
256 MB (shared with GPU)
512 MB (shared with GPU) as of 15 October 2012
USB 2.0 ports:[14]
1 (direct from BCM2835 chip)
2 (via the built in integrated 3-port USB hub)[66]
Video outputs:[7]
Composite RCA (PAL and NTSC), HDMI (rev 1.3 & 1.4),[75] raw LCD Panels via DSI[76][77]14 HDMI resolutions from 640×350 to 1920×1200 plus various PAL and NTSC standards.[78]
Audio outputs:[7]
3.5 mm jack, HDMI, and, as of revision 2 boards, I²S audio [79] (also potentially for audio input)
Onboard storage:[14]
SD / MMC / SDIO card slot (3,3V card power support only)
Onboard network:[7][14]
None
10/100 Ethernet (8P8C) USB adapter on the third port of the USB hub[66]
Low-level peripherals:
8 × GPIO,[80] UART, I²C bus, SPI bus with two chip selects, I²S audio[81] +3.3 V, +5 V, ground[74][82]
Power ratings:
300 mA (1.5 W)[83]
700 mA (3.5 W)
Power source:[7]
5 volt via MicroUSB or GPIO header
Size:
85.60 mm × 53.98 mm (3.370 in × 2.125 in)[84]
Weight:
45 g (1.6 oz)[85]
Operating systems:
Arch Linux ARM,[2] Debian Linux, Fedora, FreeBSD, Plan 9, Raspbian OS, RISC OS,[30]Slackware Linux[86]
Model C?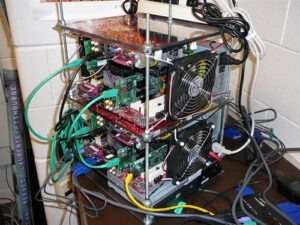 Just Kidding…
Everyone has an opinion.  How about sharing yours.  What do you think should be different about the Rasbperry Pi Revision C?  More CPU more ports less blue more yellow?  Comment below if you are cool enough.